This site will give you all the information you need to go guided or unguided fly-fishing on our tropical Caribbean paradise. The goal of our website is to get more people interested in fly-fishing and light tackle fishing on the island with beautiful flats and mangroves and to get out as much information as possible.
Captain Laurenz van Mook (Laurenz of Aruba).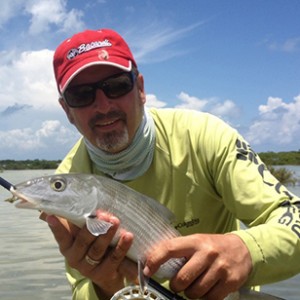 Owner/ guide with many years of experience in saltwater fly fishing and backwater spin fishing. Learned fly fishing while living in Belize and has fished many places in the world; Mexico, U.S.A., Thailand, Spain, the Netherlands and Belize. Laurenz has been full-time guiding in Aruba since 2008.
---
If you click on the tours link you can find the different tours and prices available. All the tours have a maximum capacity of 2 persons and will take place in the early mornings. Early booking is recommended! If you fill in the bookings form than you can expect a reply in 1 or 2 days. (All the bookings are done online and in the confirmation letter you will find a mobile number for last minute changes!)
Through the testimonials shared on this site you will be informed of the best fly-fishing spots in Aruba, which are generally on the west side of the island. There are some beautiful flats here and you always have the winds in your back. The north side of the island is very hard to fish on because there are only a few reachable places and rough water.
Since I started this site in 2008 many people started bringing a fly rod on their trip to Aruba!
I hope our website will be of help to you and please feel free to email with suggestions, questions and/or info that you'd like to share. Click here for information on high tides, weather and what to bring.
Looking forward to fish with you.
I am a big believer in catch and release!
Yours tropically, Laurenz.
---