If you have been fly fishing on Aruba and you have a nice story to share please send us an email. Your fishing stories are very welcome and appreciated. After review your story will be placed on this page.
Check out our video!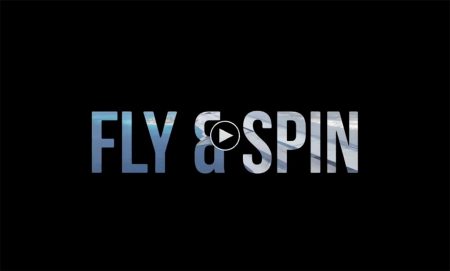 If you're trying to fish in Aruba, this is your guide.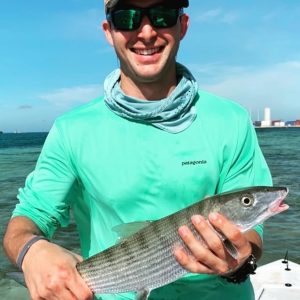 If you're trying to fish in Aruba, this is your guide. Laurenz is incredible; extremely knowledgeable and personable. The only guide you'll see in Aruba on the flats, and the only flats boat on the island. With the many reefs in and around Aruba it's amazing that someone is out there tackling the flats on an island known for its wind.
We had an incredible time. With low light and overcast conditions we started out on some of wrecks to get some fish in the boat and then went onto the flats fishing when the sun was higher. With less than ideal conditions I had the opportunity to get my first bonefish on fly. Without Laurenz this never would have happened. Got to cross fly fishing for bonefish off the bucket list in a destination not known for being a fly fishing destination.
Can't beat the price either! You won't find a guide in the keys or Bahamas with this level of knowledge at this price point. Especially since most everything else on the island for tourists runs pretty steep.
If you're trying to catch fish and in it for the hunt instead of slowly trolling over reefs, this is absolutely your guide.
Emerson Dresser
A Caribbean Fish Tale by Dick Cooper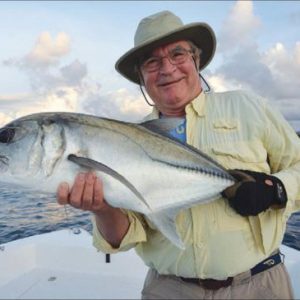 Just like most fishing stories in my life, this one starts out in the dark, While I have never studied the habits or habitats of fish, I am familiar with the methods and practices of those who try to catch them. The requisite starting time for the endeavor is always in the middle of the night. And so it was during our latest visit to the island of Aruba in the southern Caribbean. The morning birds were still quite when my fishing partner, Don , a high-school principal from Alabama who grew up casting for redfish in the Louisiana bayous, and I met as planned in the darkened lobby of our hotel. About six weeks before, we had made reservations on the website flyfishingaruba.com and had received an e-mail that we would be picked up at 6 a.m.
Click here to read the whole article
It was perfect for what I wanted to do
I fished with Captain Laurenz (Laurenz of Aruba!) last week, (my first visit to Aruba) and enjoyed it very much. Thanks again to everyone for the reference. It was perfect for what I wanted to do. I'm not really into fly fishing that much. And I didn't want to spend $800 and troll around all day long in heavy seas. Of course there are cheaper options if you want to go out and anchor somewhere and catch bottom fish and drink beer (around $80 I think). That's ok too, kinda fun and relaxing actually. But light tackle fishing is really most enjoyable for me, and Laurenz had it covered. He was personable, knowledgeable, and enjoyable to be with. It was a more personal approach, just like two old buddies out on the water fishing in a 20' boat along the shoreline/reefs. He picked me up and dropped me off at the resort. And he took iphone photos and sent them all to me via email so that I didn't have to mess around with my own. So the $280 (plus tip) was well spent IMHO. Four hours was plenty. My arms were ready to fall off after battling those hard-fighting jacks. We also landed a few Needlefish, and had a hit-and-miss on a barracuda late in the morning. The highlight of the day was what we believe to have been huge Kingfish that came clear out of the water and smashed my surface popper. Had that one on for about 5 seconds before the leader parted. What a thrill.
I think the largest Jack we landed was about 30-lbs.
Our week on the Island was very windy and the seas were rough all week. (Several people lost their lives as I understand it, drownings, boat capsizing, etc). So my fishing buddy was a little wary about going out on a small boat (he can't bounce around much due to multiple back/neck surgeries). But with him backing out, it out worked out well for me in the end. I really enjoyed the one-on-one time with Laurenz. He filled me in on all things Aruba, (Including the infamous Aruba volcano on the southern shoreline, ha-ha, lol!).
Initially we were going to stay inshore and fish the mangroves, but with some incredible luck the winds laid down enough so that we could fish along the De Paul Island reefs. We were blessed with a timely (and very brief) weather window. And I had a blast…
In any case, I highly recommend flyfishing-spinfishing Aruba if you ever decide to head down to paradise.
John D. Silva
New England Outdoor Freelance
Outdoor Journalism & Photography
---
Big thanks for a day I'll never forget!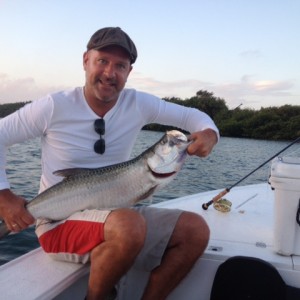 If you have plans for a fly fishing trip in Aruba you should book a session with Maestro Van Mook.
Do like this:
Listen very carefully to what he says about casting technic.
Use the rod and reel that he wants you to use ( and the fly )
When you get a strike/ hit do exactly what Laurenz says you should do.
Don't bring any Trout / Salmon skills habits out on the trip ( Tarpon is a different thing )
Enjoy the time!
I did this and caught 2 Tarpon in 2 hours fishing! One 20 lbs and a baby on 6 lbs!
Best fly fishing day in my life thanx to a very professional and friendly guide who really
have the passion and knowledge about fly fishing in Aruba.
Mats Hultin, Norway
---
What a great time!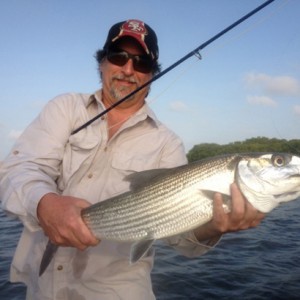 What a great time fishing with you last week. Glad to see a picture of that bonefish up on your site….particularly with that 49'er hat! Can't wait to get back and do it again. The fishing was great the company great and the knowledge and instruction first class.Tight lines!Greetings,
---
Masha Danki…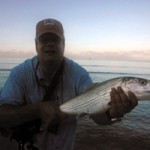 Laurenz,Yes, next time 100% as I want to hit some more Tarpon & Permit. As I must say these bones I caught on the island on this trip were raised in your honor as you taught me about how critical it is too shoot line a great distance. And how these guys can break your heart if you melt down on that golden chance or opportunity at a 5lb bone. So i worked on my casting 3x a week for a year hitting an object 35, 40, 50'+. After seeing your smooth fluid cast, i learned that i needed to up my game and cast 40'+ with only three false cast or the bone will be gone.So again i credit my fishing success to your skill & teachings and wanted to grab a few drinks with you when i was on the island. And hoped to see what a day on the flat boat is like in Aruba. As this year i came armed for these fish with Rio bone line, Seaguar fluo #10 & #12 Orvis flat boots, sun shirts, buff, glasses, and tied up many different fly patterns. So doing my homework paid off. ;o)
Again all this is credited from your sound advice you have given me my friend on the water. Until 2013 when i make it back, stay safe, happy holiday, and i will book again when on "The one happy island".
Masha danki,
Steve A
---
Thanks…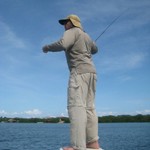 Laurenz,Thank you for the wonderful time on the water on 11.30.12. I'm hoping to get back down there at some point in the not too distant future to get on the water with you again. I had a wonderful time learning some new techniques and improving my casting.Thanks again,
Dave
---
Dreaming of a ……….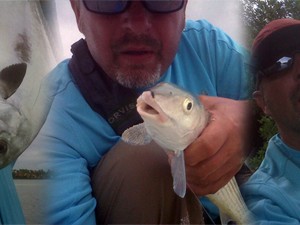 From the moment I caught my first Bonefish, I started dreaming about catching Tarpons. When I started catching Tarpons, I started dreaming about Permits. Catching Permits was a lot harder than Bonefish and Tarpons in Aruba. The reason for this is that they are not very common here and the search for them can be time consuming. But like most fly fishermen, the dream of catching a Grand Slam kept popping up every time I saw a Permit tail, telling myself; if I (on a day off) or a client catch one during a trip, I will dedicate the rest of the day for the ultimate challenge!In general we go only after Tarpons and Bonefish because the odds on catching them, are much bigger during the trip.Then 3 weeks ago, I caught a Permit on my day off and spend hours looking for Bonefish, but the weather was not helping and I gave up during the first drip of rain. I went back to the same spot several times with clients to see if they would have any luck but no more Permit tails.
Yesterday I had a day off, and my trailer needed a new axel and even with bad weather I had to put the boat in the water and decided to go fly fishing on my own. I went to the place where I've seen Permits in the past and caught one three weeks earlier. When I jumped off the boat to go wading, I realized that I had very little chance with the tide and weather against me, but I had to kill some hours any way.
I think that I was walking for maybe 4 minutes on the flat and then it happened: I saw a Permit tale! He was 60 ft in front of me and before I had time to warm up I took my chance, and with 2 false cast I put the crab fly almost on top of his head. Before I could strip I felt a pull and before I knew he started running and kept running! Going way into my backing 50/60 yards in top speed, my heart started pumping and the only thing I was thinking was don't loose him! I did manage to land the fish and after taking a picture and releasing the +/_9 lbs. permit, I took a drink and relaxed for a minute.
Because of the early time of the day, the dream of the Grand Slam came up again. It was completely overcast and almost raining. I still thought I have nothing to loose and can always give it a shot! I took the boat and went to another flat where Bonefish can be found on regular basis. When I arrived I looked around and was surprised that even though it was a dark sky, I could still see a little bit in the water. I think it took me like 20 minutes of wadding and than it happened; I saw 3 Bonefish coming on the flat and before I had a change to get nervous I already put my fly right in front of them! 2 strips it took before I saw them turn to my fly and by the third strip the smallest Bone took the fly and when he started going in my backing I started getting nervous…………. I landed the 3 lbs. bonefish (very small for local standards) and had only one thing on my mind: "I need a Tarpon"!!! I called my wife to tell her that I won't be back until I have one!
Knowing that Tarpons are here and are possible to catch, I called " Uncle Benny" to help me with the boat so I could fish from the front. (No luck Benny was stuck at an other project)
Determent to catch a Tarpon, I went into the lagoon to go and try by myself. The Tarpon where there and I missed one hit because my hand was sweaty. It was hard with thunder in the sky and the tarpon not eating. I spend 6 hours of casting and looking for Tarpon and just before dark I decided to try 1 more spot before giving up. The next spot was a place where we caught Tarpons in the past but was not so productive lately.
I saw no rolling or activity for more than 30 minutes. A lot of blind casting followed with no luck.
Then it happened: I saw a bubble of air and did my best cast of the day !!!!!!!!!!!
When the fly hit the water I saw the Tarpon coming……..
The Tarpon took the fly like he hadn't eaten in weeks!!!!!!!!!!
He gave me 4 jumps and I have never been more nervous of loosing a fish.
I did get him and could not believe it!
I have just caught the first Grand Slam of Aruba!
I called my wife and uncle Benny and a few more people.
On my way home I stopped for a well deserved beer after 12 hours of fishing and a thousand casts.
Now I have a new dream: putting you on the next Grand Slam of Aruba!
Looking forward to fish with you.
Laurenz of Aruba
---
Hooked on Fly Fishing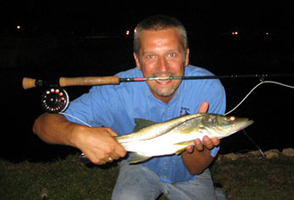 Fishing has always been a big part of my life. Growing up in the east part of Holland(the Netherlands), fishing was the family thing to do. Every Sunday the whole family would get together and go to riverside where the men would fish and the women would read, gossip and prepare the BBQ.As soon as I was able to hold a rod I was fishing. In those days we where fishing for carp and pike. At the age of 18, I moved to Amsterdam and fishing became only part of my holidays and because of my work in the nightlife, I forgot about fishing for a while.At the age of 29, I fell in love (again) with my now wife. After 3 months of dating we started traveling; we started off with 3 months in Thailand, where I had my first encounter with fly fishing. I was sitting on the beach Phuket island and saw a Japanese man fly-fishing and he looked so relaxed. He explained to me that it's not only about catching the fish, for him it was a form of meditating. That to me was new and got me thinking about maybe one day if I get the chance, I should try it.
After Thailand we moved to Southern Europe, to the south of Spain and I picked up fishing again (in mountain lakes). Two years later we moved to Belize(Central America) and there the fishing was also great. With a group of friends we used to do a 2 day fishing trip once a month (trolling and spinning). One night a drunken tour guide of a local resort wanted to sell his fly rod to pay his bar bill, but nobody was interested, so this was my change; I owned my first rod, a 9 weight St. Croix purchased for $60,- real and line included. I paid another 10 dollars for his fly collection.
Once I got my rod, I could not stop practicing. With no one to teach me, it took a while before I could get the line out far enough. Before we left Belize to move to Aruba, I spent a week on a beautiful island http://www.glovers.com.bz/ because it was out of season and I was the only guest there, there was nothing else to do then fishing, so I brought all my fishing gear including the fly rod.
One day I was watching the sea and saw a school of jacks attacking bait fish, but every time I got my rod I was to late, so at some point I just stood there for 3 hours waiting in the burning sun and then it happened: the school of jacks came and I cast right in front of the school and they got hit by a jack, that took most of my line and I managed to land it.
I lift him out of the water, like I was lifting "the Super Bowl" Trophy.
At that moment I realized that there was no audience and I learned 2 things:
I was hooked on fly fishing.
I fish for pleasure and I don't care for competition, like I used to do with trolling.
I found that fly fishing relaxed me much more than other kinds of fishing. After 2 years of Belize it was time to move and we (my wife) choose Aruba.
Before we moved I checked the internet about fly fishing in Aruba and could not find much information. But pictures of the island gave me hope. If there are flats, there has to be fish!
As soon as we moved I got a job as a bartender and my wife found a job as a sales agent at a Real Estate company. Every spare day, I spend fly fishing and caught some nice jacks and barracuda's.
One late afternoon with a beautiful sunset, I was fishing and then it happened; I got a hit on a small fly and my line started running like if never experienced before; adrenaline was pumping through my body and without seeing the fish I already knew what it had to be. I read and heard so much about it that for me it was clear, I was catching my first bonefish!
It took me a long time to land it, 5 runs it did and a good fight, but I was not going to take any risk. Managed to land it and it made me smile for 2 days! Ever since I have been chasing them and with good results!
Through my work in the bar, I keep meeting people, mostly from the United States, with the same passion in fishing. I take them with me fishing, pure for fun and to learn from each other. I also met some Dutch and local people, who where interested to learn fly fishing, so I also started teaching them and with success. They picked up really well and I made some good friends.
Still when the fish are not biting and I am standing in the water and there is not a sound; I remember the strange Japanese man and his words.
So if you ever come to Aruba, send me an e-mail and maybe we can go fishing together!
Laurenz.
---
My first time salt water fly fishing…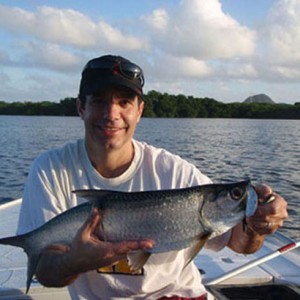 I am home in the snow and wanted to thank you for a great trip!!!!!This was my first time salt water fly fishing. I had the basic skills for trout, but needed to be able to cast with more distance and accuracy in order to catch some fish along the mangroves. Laurenz was the right guy to help me. He showed me how to double haul, and within a few hours of our trip I was making pretty good casts, even with a lot of wind. And just like that I had caught my first Tarpon. It was not huge, but was a fun fight as it launched itself out of the water several times flashing its shiny body.
Laurenz was a class act all the way. He was prompt, great at instruction, took me to some fun fishing areas. Next time I'm in Aruba I will be going out with him a few times, much to my wife's dismay ( she is tired of the picture of my first Tarpon).
Steve from Cleveland
---
The ultimate wet dream…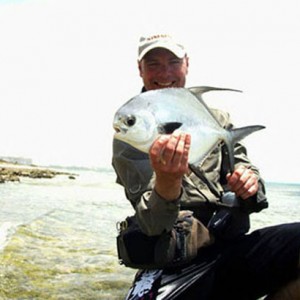 Yes, I know the place. Aruba, tough fishing but very rewarding. Not the usual bonefish everybody catches. Ever heard those stories: "yeah, I went to Mexico and had about 50-60 fish a day…" Or did you see a video about the best bone fishing places in the world? Where the folks hook up with one of the bones from a school of hundreds or thousands, fishing light gear (6 weights) and thin tippets (4-6 lbs) and still they have to set the drag off to get a run for the home video. Not my type of game….Aruba, I grew up here, and as a little kid my neighbors where all fisherman. Hand lines, nets, even some of them had boats to go out for big game. Wahoo (we call it Mulato) and Dorado (Dolphin), Barracuda, small tuna's and billfish. I have seen them all come ashore and fished for them with hand lines when I grew up. Trolling a hand line in a little sailing boat (sunfish) and when I grew up I felt a huge affinity with Hemmingway's "the old man and the sea". Not all the fishing was from boats. Most of the time I would go out with the other kids and walk along the beaches, fish with hand lines and small nets and when I was about 5 years old I knew my fisheries already.When I grew up I wanted to become a veterinarian and left the island to study in the Netherlands. That's where I got connected with sportsfishing and eventually I turned out to be a catch and release fly fisherman. I was amazed when at the age of 26 I opened up a magazine and noticed this fish I knew as Warashi or Macabi. The people in the magazines called it bonefish and it was a fish I have known for over 20 years. I realized this would be the ultimate fish on the fly and lucky me, each year I would be able to go for it when visiting my parents back home in Aruba. I knew where they live… Those places nobody would fish, as bonefish are considered useless for consumption and they just rip your line.
So when I returned to Aruba the first time after I became a fly fisher it was time to chase the bones. In the past 5 years I learned a lot about it. Aruba is hard and difficult, you won't find the schools of bonefish like they have in other places. It is mostly singles and groups up till 4 or maybe 5 fish. Not much chances a day either. I think it is to be called good when you go for a trip and you manage to hook up with an average of 1 or 2 fish a day (I have had trips with 4-7 a day). And then you are good when you manage to get one out of 4 or 5 at hand, depending on the places you fish.
If you read this and think about the so called buddies bragging in the fly shop about their 50th fish in one day… Would Aruba be worth fishing?
Hell yes, Aruba is not for pussies. No light gear or light tippets needed to get rough drills. Over the past years I have fished a lot on my island. An 8 weight is surely a good thing to have at hand. Using strong and long leaders and being well prepared is a must. I sometimes fish up till 18 feet leaders, with a 10-14 lbs tip. The drag is set so hard that stripping of line is truly an effort and still the fish manage to break you of. Drilling tight, hearing the reel scream and having a run that rushes out 40 or 50 yards of backing… How can that be? Well, Aruba may not have large numbers, but the fish are large. 20 inch can be considered a good average and my biggest one caught up until now is about 28 inches fork/nose. Those are fish of 8-10 pounds or maybe even a bit bigger. Now imagine yourself getting back home and throwing one of those pictures on the desk of the local shop. I bet you the guy with lots of experience and that many fish a day will keep his mouth shut. He will get down on his knees and worship, like he should.
But hey, that's not what my ultimate wet dream is about, having other fly fisherman worship me. I am not much of a bragging type. Over the past years there was a new development on Aruba. The sport is getting a bit more popular and there are more tourists making an attempt at the trophy's of our "flats". Also some locals got into it and one of them is Laurenz. We became good friends and share our flies and experiences with each other. Eventually he started guiding and got more into discovering the island. The rumors about tarpon were carefully researched and some spots were discovered. Eventually we even got into some places where we spot permit. And that is when the wet dream came in.
During my last trips I have been out with Laurenz a lot. With his skiff it is now possible to reach the more remote areas and really stand a chance on getting into permit or tarpon on the fly rod. When I was here in April I even got it, my very first Arubian Permit. Not a big one, but a good start. And we have seen big ones, true trophies.
Imagine that one single day, when it all comes together…. Getting a permit early in the morning and then try as hard as you can to get yourself a bone. Once that is achieved you will have a chance to become the first person who records a true Arubian Grand Slam. Back in April Laurenz was lucky I had to go to my sisters marriage, because if not I would have called him to be fishing all day for the bonefish and the tarpon, that missed to complete the achievement.
And sometimes I dream about it, out there with Laurenz, one of us catches the permit and we go for the bone. We manage it and go to the mangroves. The lucky one of the two of us on the deck, the other one poling the skiff around. We see a tarpon rolling and the one on the back set's up his buddy on it. A huge swirl, a big take. The fish that completes it all…. It's then when I wake up, still don't know if we catch it, but to me a Grand Slam on Aruba is the ultimate wet dream.
---
Brazil Amigos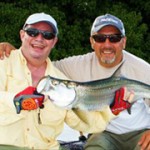 Friends,We had the opportunity of fly fishing with Laurenz in our recent visit to Aruba, and we only have good words for his knowledge and high level of professionalism. Great service, for a reasonable price. For any information, I'll be pleased to answer.Brazil Amigos,
Tivemos a oportunidade de pescar (fly fishing) com o Laurenz em nossa visita à Aruba e só temos elogios ao seu elevado conhecimento e profissionalismo. Serviço nota 10, por um preço justo. Qualquer informação, podem me procurar no Brasil:
Luiz Almeida
luiz_fly@hotmail.com
---
A Picture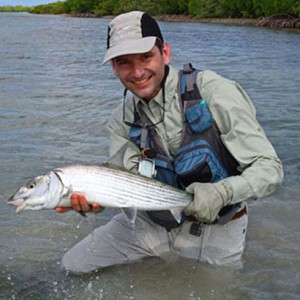 A picture says more than ………………….A while ago I got a mail from Thibaut, a Frenchman who lives in Canada. In the mail he told me that he is an very experienced fly fisherman and also a photographer for fishing magazines . To make a short story long; I invited him to go and fish with me and maybe he could make some pictures for my site. So when we went fishing last week, he told me that he caught a nice bonefish at Malmok, but didn't take a picture. The morning we left, the weather was really bad and we couldn't find many bone's . Late in the morning I did hook one, but because I fished with 8 pound test (wanted to show off ) I lost the fish! A little disappointed we went home and decided that we had to go one more time. With some help from my colleagues at work I was able to change my working schedule to fish one more day. Again the weather wasn't helping and after trying almost every spot on the island we went and found a place with a beautiful Grass flat. So I can tell you what happened or I can just show you!Congratulations and welcome to my Club!
Thibaut has his own website on fishing.
---
After the rain comes…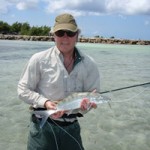 After the rain comes ……….It has been a few weeks since my last update. The reason for this was that the fishing was not so good and my busy schedule. The weather was really bad lots of rain and cloudy day's witch make believe that there could be a connection? Am I wrong to think that bonefish might not like to come on the flats when the weather is bad? Maybe they use the sunlight to find food on the bottom just like we do to spot them? If you have any answers on these questions please let me know! So after a few bad day's of fishing the sun came out! The last few day's the weather was getting better and the fish start coming back! Yesterday I went fishing with John and his friend. The morning started slow (cloudy sky) and we only saw 2/3 bones but could not get close to them. After a few hours we decided to chance location and went to a turtle grass flat. the same cloud followed us an we went to another place more north where the sun was shining. In the late morning we went to a small flat as a last chance and we couldn't see any bone's, so we decided to do a little blind casting with different flies and ……………………..bang ! There it was a beautiful bonefish caught on an big clouser! John was smiling and we had a few more bites (lost them) . The whole thing makes me think about the weather connection.The raining season should be over now and I am looking forward to the better fishing day's!Greetings and tight lines.
Laurenz
---
First Bonefish
Thanks very much for helping me achieve a fishing milestone my "first bonefish". Without your expertise and knowledge I doubt on this visit I would not have seen a fish never mind catching one. Even if I did not catch, I enjoyed your company and the knowledge you imparted to me. This was certainly the highlight of my holiday, and the power of the fish lived up all I have heard about this species. When I visit Aruba again I will drop you an Email and arrange another trip.Tight linesTony Jones, UK
---
Thanks Mike
Two day's ago Mike and I went fishing again looking for bone or snook.The whole morning we fished and it was not the best day on the water, we did catch a flounder and a big needle fish. Mike caught a fish of which we are not sure what it was and released it fast. The scenery was beautiful but we were determent to catch something cool. Because of the weather it was difficult to do sight fishing and we went to the edge off a little reef and tried some blind casting. And boy's will be boy's; we ended up trying to cast as far as possible and did succeed in casting the whole line of the reel! After a few cast off the reef, Mike got a hit and hooked a beautiful and very strong rainbow runner! First I thought he was stuck to the bottom because his rod was bent completely and than I heard his reel screaming and realized he's smiling like a young boy. It took a while to land the fish and it made our day. Fishing with light materials make catching rainbow runners a lot of fun. Mike who is a very good fly tier, left me some beautiful flies that I cannot wait to use!Thanks Mike and see you next year!
---
That's why they call it fishing…
Yesterday morning I picked up James and Mike, both from New York. We went fishing on 3 of the best spots but could not score a bone, the weather was bad and luck was not on or side. A little disappointed we went back to drop off James at his hotel and on our way to Mike's hotel. When I decided to stop for a second to look at this small flat next to one of the hotels. We walked to the flat and saw this 10 pound bonefish and our rods where still in the car. Mike was very impressed with the size of the bone and I was running to the car and broke the record for setting up a rod! When I came back to the flat, Mike was still looking at the fish. I give him the rod and told him to go for it and he did! Because he was a little nervous he hit the bone straight on the head and spooked him. It took like four beers before we could talk about anything else! Due to my busy schedule I asked Mike to come fishing with me again the next morning at this spot, but he had no time. I got up this morning at 6.30 and the only thing on my mind was that little flat. Two minutes later I went to that spot and as soon as I got there I saw 4 bones tailing in different directions! Making sure that the wind was in my back, I cast to the one bone 20 ft in front of me with a shrimp imitation that Mike had made …………………twitch twitch bang! It was not the big bone from yesterday but it was a beautiful fish! So you can never tell one day you fish for hours and can't catch them and the next day you do one cast and you land a great fish. Leaving the flat with mixed emotions I was happy to catch that fish but would have been more happy if Mike or James would have caught it!(James left the Island and promised to come back next year and Mike who I like to thank for the great flies he made for me will be here for one more week to score his trophy!).
---
A good start of the year!
After reading his stories for the last few years on the net and mailing each other we finally met. Sander (Arubaman) came back to the island! The first week he was here, I had no time due to shortage of staff at my work. Sander went fishing every morning at Malmok and with succes. He caught some beautiful bones on the flats. When I had my day off, we finally had time to fish together and I asked him what he had in mind. We decided it would be great to go after baby tarpon, which he was a virgin to.So last Friday I called my buddie Ben, who is crazy about flyfishing and a good kayaker and we made a plan! The three of us took 2 kayaks and went to the mangrove's. One of us stayed on land and we would be taking turns and so we went! It was a beautiful setting and we saw several tarpons. After a few misses I heard Sander call my name in the distance (very calm). After a few minutes I heard him calling again and decided to go and look for him. When I came around the corner, there he was holding his trophy in the air!His first tarpon and it was a beauty!
---
Tarpon
It must have been 6 weeks ago that I got an email from Adrian through our website. He told us that he had caught a baby Tarpon on Aruba on a previous visit.Benny and I mostly chase Bonefish, Jack and Barracuda and I could not help getting a bit curious. Having lived in Belize before, I have had a few encounters with Tarpons before! For my friend Benny this was all quite new and after briefing him on the subject we had a new mission; Tarpon needs to be on our trophy list!Adrian (who we would like to thank for his patience with us) mailed that he was coming to Aruba and would love to come fishing with us. As soon as we could, we met up with him and went where Adrian was successful before in the hunt for Tarpon.
The spot; where the lagoon comes out by the sea, (Benny and I could not believe that we didn't find this spot ourselves and we had to learn about it from an Englishman who lives in Kansas!) is beautiful but hard to cast from. We decided to take turns. By arrival it was still daylight and we saw no disturbance or signs of any fish. This all changed after darkness and tarpons started jumping all over the place! We where amazed that this was happening on "our island" and we never knew.
Everyone of us had a few hits on the fly, some very spectacular but we could not land them! It felt like they knew how to unhook themselves (any information on how to solve this problem is welcome). After leaving frustrated that night, we had to drink a few beers and talked; knots, flies and tactics.
The next week the 3 of us went back and had the same experience and we became even more frustrated than the first time, even the phrase "the one that got a way" turned up. The next day when Adrian left, I thanked him for helping us and promised him we would not give up and as soon we would catch one, we'll put the picture on our website. www.flyfishingaruba.com
So last night the 2 of us went out again and after a few hits and jumps, Benny managed to land this beautiful tarpon. This was by far his biggest fish on the fly rod so far and he was jumping for joy! Standing next to him I can remember some mixed feelings .I was excited / a little jealous but most of all; very proud that the man who I thought how to fly-fish over the last 6 months now is beating me in the race to catch the first Tarpon!
Greetings Laurenz
---
Fly to Aruba, Aruba on the fly
Ask most people about Aruba and they typically think of white sandy beaches, warm tropical seas, balmy trade winds, excellent restaurants, casino nightlife and all the features one might expect of a tropical vacation island. They may even know that it has some of the best kite boarding and water-sports in the world. But there's another hidden gem on Aruba that is less well known and that's its fishing. Visitors may go on fishing trips for various bill-fish but they can also go fly-fishing. Aruba does not have the extent of fly-fishing locations as the Bahamas or near-by Los Roques but it certainly has plenty of opportunity for the traveling fly-fisherman.The "big three" of saltwater fly-fishing; bonefish, permit and tarpon are found here and can offer lots of fun for the avid fly fisherman or someone who wants to try something different. Several fly-fishing "flats" exist along the south coast and the usual 'crazy Charlie', 'gotcha' or crab pattern flies will readily attract their attention. A small but growing number of local fishermen are finding that fly-fishing the flats "is the way to go". Even the constant 16 knot (7.5m/s, 17 miles/hour) winds are less of a problem here as the south shore locations mean that the north-easterly winds are at your back. As elsewhere, fishing is best early morning or late in the day which means you can get out early, catch your fish, and then enjoy the beaches and the other island attractions with the rest of the family.The opportunity to explore a new fly-fishing location with the knowledge that there will be few people around is always exciting. Aruba offers this possibility combined with many other attractions so that when that bonefish hits and you hear that 'singing line' or you see that jumping tarpon you'll know why you and your family came to this "One Happy Island".
Adrian del Nevo
---
Greetings
My name is Rob Kramarz. I am a fly fisherman from the US (New Jersey) and have been vacationing in Aruba for the last 3 years now and have always had my fly rod with me. I am the type of fisherman that studies maps, charts, tide tables, and such before venturing out to fish a location I am not familiar with. By far Aruba has been the most difficult in my travels but with average success until this year. Like you stated on the site larger rods aren't needed. I travel with a 7 wt Mancini rod (custom built) with a Loomis reel and an 8 wt floating line.Over the last 2 vacations my success has been limited to Jacks, cuda and other species mentioned with the elusive bonefish not brought to land. Let me go back a bit and let you know that I have fished with a fly rod for over 10 years, and also tie my own flies and have traveled a lot to pursue bones, permit and tarpon. I have been training this past year to acquire my fly-casting instructors certificate in the states and am a seasoned caster. My wife thinks I am crazy but I try to "build" fly boxes for all of the destinations that I have fished with the most successful flies.I have used and caught fish in Aruba this year (Dec 15-22) and was by far the best year. Starting out at pre-dawn and walking from the Occidental to "The Ship" I always had the vision of a big school of Jacks busting bait to the left of the ship and had my fair share of reality with it. So that mid-morning coming off of the flats heading off the beach to go make my lunch date with my wife what appears out of no where, the "silver ghost". It was cruising happily and my presence didn't seem to bother him at all. He actually got within 6 feet of me before mildly changing his direction and started to tail just 15 feet away. The thoughts started crossing my mind about what flies I had, what would work and what wouldn't, where was he going, where he had been, where could I cut him off, where could he cut me off & "oh S@%t" my lunch date with my wife. So I let him go on his merry way. I watched him tail happily as if to say "ha ha can't catch me".
Well this cat and mouse game continued for 3 days with numerous shots and other bones but that first one was the only fish that I really wanted. That one had some "shoulders" on him, so the hunt was on. Two days, four other bones but no sight of the "ONE". With just one day left to fish, bad weather the previous day, and a promise of spending the day with my wife I figured that I would pack the rod up for the trip home without catching the "ONE". After a healthy breakfast, we picked some lounge chairs next to the pool, positioned them for optimum sun, and settled in for a post breakfast nap. Well that lasted for about 4 hours but not an ounce of rest. More like a pound of restlessness! Thoughts of how it would all go down, the positioning, the fly, the cast, the blistering runs, and the release of the "ONE" causing this restlessness! The next question was "wanna" go to lunch?" and the answer from wifey was "Just go' you know you want to …" Standing there a little confused I couldn't help but wonder what question I had just asked. So before I could ask again my wife said "you'll be miserable of you do…" and before she could finish her sentence I was up to the room and back at the pool ready to go…" …n't.
Well the walk that would normally take 30 minutes seemed to take the rest of the vacation but I had arrived at my destination. I remember that the wind was out of the East at 20-25 kts. pretty much my max, but it was my last shot until next year. So I figured "give er hell" wading out to knee deep water that seemed just right I started the "scanning" process. The sun was at my back to optimize my polarized vision first up beach, then down beach, a little further out, what's that…oh just a cowfish… move oh baby cuda …. Move on. Well this went on for about an hour or so and I started thinking it just wasn't meant to be and out of the corner of my eye up the beach" was that a fin? Hard scanning pursued and damn it there he is "THE ONE" 90 ft and quartering toward me slightly. My position was about 80 ft from beach, wind was dead in my face, not the most optimum for a precision cast but when its the bottom of the 9th and 2 outs and runner is cruising position you have to choke up and take a crack at him. Stripping out line and judging where he's going to be in time for a cast while keeping another eye on him the wind started to drop some. Conditions started to improve to my ability and the warm up cast started in sync with the increase of cloud cover. You've got to be F****in Kidding me!!! Where'd he go. Not even a tail. Figures??? Just as I started to strip my line in defeat a glint of sun had peeked through enough to show big boy had closed to 60 ft @ 12 o'clock. One shot was all I got at the fish; wind switched to the Northeast and my perfect cast was blown 15ft off target. Standing dejected with my rod tucked under my arm he decided to change course…. toward the direction of my fly. WOW maybe I still have a chance. At this point sun or no sun I was locked on him like a teenaged boy seeing his first thong bikini. I couldn't see my fly and there was a generous bow in the line that needed to be taken in and as I was in the process of doing this the fish tipped up……strip strike and nobody was home. He was right on top of the fly & I pulled it out from underneath him. Well that irritated him enough to the point of where he would have chased that fly right up may pant leg because in about 1/2 second he had tipped again and was off to the races before I could even strip strike and the race was on. Two blistering runs into 100 yds of my backing I was thinking I didn't have a chance to land this fish. The third run I just couldn't believe that he would have found the only tree branch probably in the entire Caribbean but luck was on my side with this fish and the "ONE" had started to tire and he was finally brought to land. I knew he was bigger than the others but I wasn't expecting this. When the only way to grab a bonefish is by the tail you know he's big 9.5 lb big in Aruba? No guide? Unheard of ??? NOPE the picture will be sent as soon as possible.
Thanks and have a great new year.
Rob Kramarz
---
Great Outing
Thank you again for another great outing. Not only did I learn how to spot lots of bonefish but your suggestions helped convert my trout angling into salt water casting. I love fishing with you, you are an excellent teacher. I always fish with a guide when travelling and I would recommend you to others. I would be especially comfortable recommending you as a guide for other women because I know they would have a fantastic experience.Maria Ellis MD
---
---